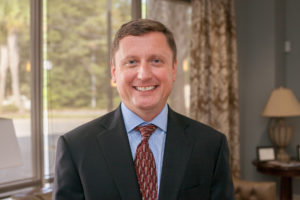 Kevin was born in Blacksburg, South Carolina, and graduated from Winthrop University in December 1994 with a Bachelor of Science degree in business administration with an emphasis in accounting.
Kevin became a certified public accountant in 1998.
While attending Winthrop University, Kevin was employed at Geo. G. Scott & Co. in Charlotte, North Carolina, as an intern. After graduation, he was promoted to junior accountant.
In May of 1997, Kevin joined Burkett Burkett & Burkett Certified Public Accountants, P.A. in the Rock Hill office. He worked on audit engagements and tax preparation for individuals and small businesses.
In November of 1999, Kevin left Burkett Burkett & Burkett Certified Public Accountants, P.A. to work with Legg Mason Wood Walker, Inc. During this employment, he passed the series 66 & series 7 exams to become licensed to sell securities. Kevin gained experience with investment strategies and financial planning until Legg Mason closed the Rock Hill office in July 2000.
In July 2000, Kevin joined Burkett Financial Services, LLC. In September, 2003 he passed the series 24 General Securities Principal Examination.
Kevin is a member of the American Institute of Certified Public Accountants, the South Carolina Association of Certified Public Accountants. He is a member of Trinity United Methodist Church where he serves as Chairperson of the finance committee.